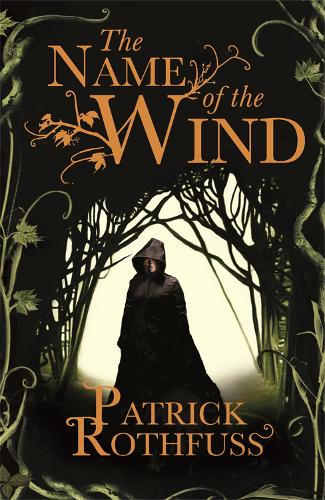 I was actually rather surprised that I picked up 'The Name of the Wind', given how it was one of San's recommendations. There have been several instances whereby our book recommendations have disappointed the other. A prime example is The Chronicles of Ancient Darkness. Whilst San absolutely loved the series, I couldn't even get past the first couple of chapters. But books aside, there have been other countless times where I've been sceptical about her recommendations and have been proved wrong every single time – Pinocchio, Your Name and Erased – just to name a few on what is probably a long list.
There was something wonderfully hypnotic about Kvothe's story. I literally wanted to burrito myself up in a blanket and drink in all the words without having to stop for the realities of life. The way the narrative weaved between the past and present was effortlessly done. It felt nice to take a breather from the past and return to the present every once in a while and get a glimpse of Bast's, Chronicler's and Kvothe's reactions as the true events of the past were told.
To put it simply, there was something about Denna that irked me. I can't explain what it was, but there was something there. And in all honesty because of this, my concentration would start in dwindle in chapters that she featured heavily in. Most of the time, I could understand where Denna was coming from given her past and why she was somewhat of a flight risk. However despite this understanding, I could not like Denna as I had previously hoped to. The whole romantic aspect of the story felt strange and forced in a way, leading to me being completely disinterested.
"We understand how dangerous a mask can be. We all become what we pretend to be."
In complete contrast was Kvothe, who proved to be an interesting and likeable albeit slightly arrogant protagonist from the start. Although, Kvothe can be accused of not having any weaknesses as such given that he is (unrealistically) clever and uses his ability to think quickly on his feet to his uttermost advantage, his struggles were masterfully depicted throughout. As such, not everything goes perfectly all the time for him and a real sense of his difficulties can be felt.
The more secondary characters were also brilliantly depicted. Bast was a mysterious one as there are vague hints as to what he actually is. His relationship with Kvothe appeared to be more than what meets the eye. It would definitely be interesting to find out more about Bast. Even something as basic as his name – is it symbolic in a way or bear any relevance to the Egyptian goddess?
"It's like everyone tells a story about themselves inside their own head. Always. All the time. That story makes you what you are. We build ourselves out of that story."
Admittedly, the plot did not move at a pace that was expected; it was somewhat slower and rather than this book covering all of Kvothe's history and revealing how he earned his titles as given in the synopsis, it was more of an introductory start to what I'm assuming is going to become some legendary saga. Having said that, it would be impossible to deny that his story was not captivating and all the adventures were meaningful and linked up, slowly revealing how Kvothe became Kote.
The world building was beyond incredible and the prose itself at times came across as lyrical. Some of the scenes had been portrayed in the most beautiful manner imaginable; I could feel myself present in the moment, taking in the scene unfolding before my eyes – whether that be when Kvothe was playing his lute or raising up to an unexpected challenge. These chapters demanded to be reread, with each reread being as magical as the first time.
Something else that struck me was the concept of magic. This may be a minor detail but I loved it nevertheless. In this world, magic isn't something you're born with but rather something that you learn once the underpinning concepts have been mastered. The way 'sympathy' was explained was brilliant and more importantly it made perfect sense. In all fairness some of the other aspects such as 'heart of the stone' could have been described in more detail. The tuition fees system had also been cleverly designed and it was certainly different. I was glad that the whole tuition process had not been brushed over as it bought a sense of realism.
In a nutshell, this was an incredible fantasy book that swept me off my feet. Some minor hiccups sure, but other than that, it was amazingly written and there were a handful of beautifully described scenes that just made the whole book.
Speak soon,
Saz
P.S. Coming up with puns about the wind is a breeze 🙂